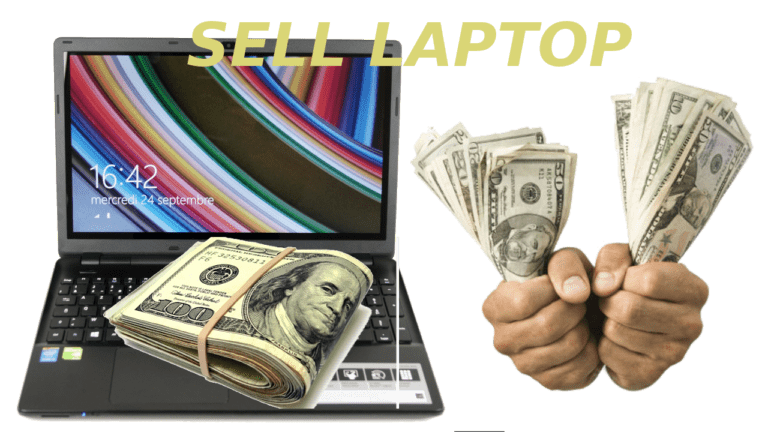 Selling Laptops for Parts - How to Break Down the Most Valuable Components
How do you sell laptops for parts and get the most money? It is time to take a look and decide
How to?
You have all been in this situation at one time or another: you look at our worn-out or unused office or home laptops and think
It's time to
sell my laptop
parts for cash
. How long does it serve you? Sure enough, you laptop has served your business and leisure well throughout the past few years but the time to upgrade has finally arrived. First of all you have to decide if you will sell the laptop for parts. You might choose to take the laptop apart and sell individual parts. In some cases you might make more money by selling individual parts to several different customers rather than selling the entire laptop for one flat fee. Therefore, if you have the technical knowledge to take the best parts off of the laptop to sell, consider that option.
Why You Should Sell Laptop for Parts
Rather than simply throwing your laptop in the trash, consider selling off various parts. When you sell your used laptops, you cut back on waste. And, this helps the planet. Also, you could actually get some good money back in the process. How to? Simply put, laptops are a trove of parts that can be repurposed for other uses. Whether they are simply sold as spare parts or used for DIY purposes, there is a lot of value in selling your extra hardware parts. Let's suppose you and your colleagues do not have time to
disassemble a laptop
yourselves. That's ok. You can always take inventory of your used laptops. From there, you can take them to a recycling facility for recovery of useful materials. These materials include aluminum, copper, and even gold. That's why it is better to sell laptop for parts and make a strong return. How to remove the parts? Actually, all the laptops have a standard array of common parts, they are assembled by each manufacturer in different ways. This often depends upon the brand. Therefore, there is no definitive standard for removing certain parts. Conversely, stocking up on old parts is also relatively fruitless. This is because technology changes so fast that they often become useless after a short time. Basically, you want to get paid the most money possible for old parts. And to do this, you need to sell them as soon as possible.
Selling laptop components can vary based on production year and manufacturer. However, you can expect the same general make up for most laptops. Popular components of laptop parts that can be sold include:
Power Supply
CPU
Battery Packs
RAM
Displays
HDD and SDD
Optical Drive

CMOS Battery
Laptop Components Explained
Look, when you're shopping for laptops, you are about to run across technical descriptions of computer components. Once you know what these technical details mean for your laptop performance, it's easier to find a quality laptop or notebook computer that fits your computing habits. Selling or buying a laptop you'd better to learn as much as you can about the main laptop components.
Processor - The central processing unit (CPU) is the controlling component of your laptop computer. Processor speeds for computers are measured in gigahertz (GHz). Multi-core processors have more than one processor core on the same chip. Speed ratings for these processors indicate the speed of each individual core. The faster the speed, and the more cores the laptop processor has, the more tasks the laptop can do simultaneously.
Hard Drive and SSD - The hard drive is the memory storage of your machine. A big hard drive allows you to install more, larger programs and save more files. Today's high-performance laptop computers have hard drives with hundreds of gigabytes of storage space. Typical hard drives run at 5,400 rpm, but you can get a performance boost with a 7,200 or even 10,000 rpm hard drive. You can also set up multiple hard drives.Additionally, sometimes it pays just to sell processors because selling a hard drive means you experience the added strain of having to delete your information before you ship it. For this reason, it is recommended to use SSD to store the most essential files and data. It doesn't matter whether your laptops use an HDD or SSD, as both are easy to remove. Once you remove the drive, you can install it in a small USB case for use as an external drive. From there, all you need is a USB adapter and you're in business again.
System Memory - This is one of the main components that will make your laptop run faster. This is the situation when the more, the better. A lot of RAM will allow your computer to run more programs simultaneously, as well as work with larger multimedia programs. A Web-browsing laptop needs about 2 GB of RAM, while an entertainment laptop can have anywhere from 4 GB.
Laptop Screen - Laptop screens use thin liquid crystal display screens. You get the clearest picture running your laptop display at the native resolution, which is the resolution at which the image matches the exact number of pixels on the screen. The higher the laptop screen's native resolution, the more detailed the picture will be. Many new models include a convenient touch screen feature.
Optical Drive - The laptop's optical drive is its DVD or CD drive. Most new laptops come with a DVD+/-RW drive. These are handy for backing up your important files as well as putting your home videos onto a disc. Some smaller laptops save on space and weight by not having an optical drive to, but the vast majority of notebook computers will have them.
External Ports - Their number varies from laptop to laptop. All will have at least a couple of USB ports to connect to a printer, smart phone, or camera. You might also look for a VGA port if you want to connect to a separate monitor or a projector. Your laptop has also the slots for MMC and SD cards.
Networking - As a rule, an Ethernet port will allow you to connect through an Ethernet cable to a network. Nowadays laptops use wireless connections. That means you can use a wireless-G or wireless-N signal to stay in touch and surf the web.
Video Card - Your laptop is not able to generate graphics on the display without a video card. All laptop CPUs have a graphics controller, which allows the computer to display basic video and graphics. A video card, however, is an extra device that takes the load off the processor, allowing the laptop to run smoothly and quickly when playing movies or working with photos. The most powerful video cards have their own system memory, which makes for faster, more seamless performance.
CPU - Can you sell CPU from your laptop? Fortunately, selling CPUs can be as lucrative as selling your laptop's display. Better yet, they are ridiculously easy to sell. This is due to the fact that they are not permanently attached to the motherboard. Most of them are actually mounted on top of the motherboard, so all you have to do is dislodge it from a small socket. Depending on the model you have, you may need to remove a passive cooling system prior to accessing the CPU. When doing this, take care to hold the CPU around the edges so as to not bend the pins, and removed, you will soon see that selling CPUs has never been easier. Just follow the instruction.
No matter which way you decide to sell your old laptop components , what's most important is that you get your money and conduct business safely. Let's start with some quick and dirty tips to make sure your sales process goes smoothly.
Learn offers and demands
Before sell or buy something it is important to check other sites to see how much they're charging for the same components. Try eBay or any other web platform where you can view open and closed postings. Note that just because an item is posted at a certain cost that doesn't mean it'll actually sell for that price. Looking at items that have already sold will give you a more realistic idea of how much your component is going for. Think about what you're selling and how old it is. And don't forget about the shipping costs.
Consider your market
If you're not in a big city, you may try Craigslist or something near you. There are many professional websites and auctions where you can sell your laptop by parts.
Calculate your budget
How much can you afford to lose on fees and shipping? How quickly do you need your money back? Craigslist will be COD – assuming you can find a buyer and want a stranger coming to your house. Amazon and eBay can take minutes to weeks to sell. Trade-in sites give you a quote instantly, but it takes a few days to get your money.
Determine your efforts
If you want a quick and clean sell, a trade-in site is best. But if you're willing to play the game, calculate fees and shipping costs and perhaps even auction, turning to Amazon and eBay can be not only sufficient, but fun. And if you have a lot of components to sell, you may want to set up your own Amazon or eBay store.
List all details you want to sell
Make a list of all the laptop details you are going to sell. It includes the model of specific computer(s) that your component works with. So, if you have an AC adapter for HP Pavilion notebooks or an LCD panel for a Dell XPS 13 9570, put that right in title. Bonus if you have the instructions for inserting or adding a part to the computer.
Don't forget to take photos of components individually. This is hot you can help potential buyers to see as much details as possible. Also, take pictures of any part numbers or specific markings stamped on the computer part that might help the buyer. Finally, ensure you know how and when you'll get your money before shipping your component.
You Are Ready To Sell Laptop By Parts>
Hopefully, this article has convinced you to refrain from throwing away any old laptops. No matter how many parts have been stripped, there are likely more that can be recycled and put to good use. If you have questions, doubts on where and how to sell, don't be afraid to consult one of professional agencies. Find a good experienced company to put questions and learn the procedure of selling laptop by parts from A to Z. The impeccable team makes selling your servers, processors, memory, hard drives, and a variety of other components a cinch. Dealing with professional trade companies you can make the process of selling your laptop faster. It will save you time, money, and stress in the long run. Once you send in the parts, they immediately process and wipe any sensitive data before sending you a check along with an itemized report. They aim to provide expedient solutions within one business day or so. You'll see, their goal is to make liquidating your assets as painless as possible.
How to Start Selling?
Find a company you can deal for selling laptop parts and components.
Get free quote
Sell your laptop
Not it is time to stop and think. If you are happy with the quote, please follow the instructions to give your details and arrange a collection. Find your Specification in the list of available services. To find your model please click on the proper icon and select About This laptop. Overview shows the Model and model year, the Processor and the Memory. Storage tab shows you the hard drive storage capacity. If your model is not listed please use the contacts from the website to contact the company.