Introduction
Are you looking to upgrade your laptop or simply want to declutter your space? Selling your old laptop can be a great way to make some extra cash while also doing your part for the environment by promoting recycling and reusing electronics. In this article, we'll guide you through the process of selling your laptop back, providing valuable insights and tips to help you get the best value for your device. From preparing your laptop for sale to choosing the right platform, we've got you covered.
Table of Contents
Preparing Your Laptop for Sale

Cleaning and Maintenance
Backing Up Your Data
Resetting Your Laptop

Determining the Value of Your Laptop

Researching Market Prices
Assessing the Condition
Factoring in Specifications

Choosing the Right Platform

Online Marketplaces
Trade-In Programs
Electronics Retailers

Creating a Compelling Listing

High-Quality Photos
Detailed Product Description
Competitive Pricing

Negotiating and Closing the Deal

Responding to Inquiries
Handling Offers
Securing the Transaction

Shipping and Delivery

Safe Packaging
Shipping Options
Tracking and Confirmation

After the Sale

Clearing Personal Data
Leaving Feedback
Managing Finances
1. Preparing Your Laptop for Sale
Cleaning and Maintenance
Before listing your laptop for sale, give it a thorough cleaning. Wipe down the screen, keyboard, and case to remove dust and fingerprints. Pay special attention to any visible scratches or blemishes, as addressing them can improve the laptop's overall appearance.
Backing Up Your Data
Ensure that all your important files and data are securely backed up. You can use an external hard drive or cloud storage services for this purpose. Don't forget to deauthorize any software or services tied to your laptop, such as iTunes or Microsoft Office.
Resetting Your Laptop
For security and privacy reasons, perform a factory reset on your laptop to erase all your personal data and restore it to its original settings. This will provide peace of mind to the buyer and make the laptop ready for its new owner.
2. Determining the Value of Your Laptop
Researching Market Prices
To price your laptop competitively, research similar models on various online marketplaces. Take note of their conditions, specifications, and asking prices. This will give you a better idea of what buyers are willing to pay.
Assessing the Condition
Be honest about your laptop's condition. Note any defects or wear and tear, as this will impact its resale value. Mint condition laptops typically fetch higher prices than those with visible damage.
Factoring in Specifications
The specifications of your laptop, including processor, RAM, storage, and graphics card, significantly affect its value. Highlight any exceptional features that could make your laptop more appealing to potential buyers.
3. Choosing the Right Platform
Online Marketplaces
Websites like eBay, Craigslist, and Facebook Marketplace are popular choices for selling laptops. They offer a wide reach but may require more effort in terms of creating listings and managing inquiries.
Trade-In Programs
Many electronics manufacturers and retailers offer trade-in programs where you can exchange your old laptop for store credit or cash. This option is convenient but may not yield the highest value.
Electronics Retailers
Retailers like Best Buy and Amazon also buy used electronics. They often provide competitive offers and a streamlined selling process, making them a hassle-free choice.
4. Creating a Compelling Listing
High-Quality Photos
Take clear, well-lit photos of your laptop from multiple angles, showcasing its condition and any included accessories. High-quality images can attract more potential buyers.
Detailed Product Description
Write a comprehensive product description that includes the laptop's specifications, condition, and any additional information the buyer might find useful. Be honest and transparent to build trust with potential buyers.
Competitive Pricing
Set a competitive but reasonable price based on your research. Consider leaving room for negotiation while ensuring you're not undervaluing your laptop.
5. Negotiating and Closing the Deal
Responding to Inquiries
Promptly respond to inquiries from potential buyers. Answer questions and provide additional information as needed. Professional and courteous communication can enhance your chances of making a successful sale.
Handling Offers
When you receive offers, carefully evaluate them against your desired selling price. Don't be afraid to negotiate, but also be willing to compromise to close the deal.
Securing the Transaction
Always prioritize safety when meeting with buyers. Choose a public location for in-person transactions, and consider online payment methods for added security.
6. Shipping and Delivery
Safe Packaging
If you're selling online, package your laptop securely to prevent damage during transit. Use bubble wrap, padding, and a sturdy box to ensure safe delivery.
Shipping Options
Select a reliable shipping method with tracking and insurance. Share the tracking information with the buyer so they can monitor the shipment's progress.
Tracking and Confirmation
Once the laptop is delivered, confirm with the buyer that they received it in the expected condition. This helps avoid disputes and builds trust.
7. After the Sale
Clearing Personal Data
Double-check that all your personal data has been wiped from the laptop. Leave a helpful note with instructions on how to set up the device.
Leaving Feedback
If you used an online marketplace, consider leaving feedback for the buyer and encourage them to do the same for you. Positive feedback can improve your reputation as a seller.
Managing Finances
Keep track of the money you've earned from the sale and ensure any outstanding payments are settled promptly. This will help you stay organized and accountable.
Conclusion
Selling your old laptop back doesn't have to be a daunting task. With the right preparation and knowledge, you can get the best value for your device while ensuring a smooth and secure transaction. Whether you choose to sell on online marketplaces, through trade-in programs, or with electronics retailers, following these guidelines will help you make the most of your laptop's resale value. So, start your laptop selling journey today and turn your old device into cash.
Ready to sell laptop back online?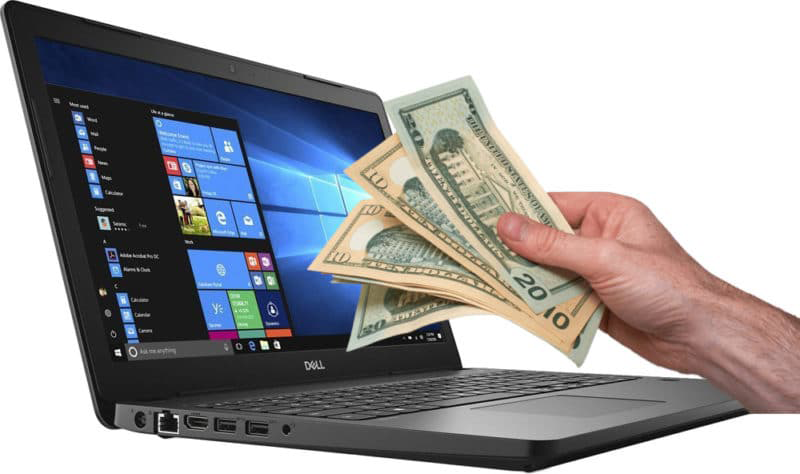 Things you need to check and consider before selling your laptop.
You can test your drive in Windows by using CrystalDiskInfo Portable. With older laptops, when you hear a funny noise from the hard drive bay it's very likely that your hard drive is going bad!
When selling a laptop online honesty is crucial, saving both time and money. If you don't disclose something bad about your computer's condition and then sell it on eBay. This is your chance to get the most money from it. And of course, you don't want your laptop will be shipped back to your place.
Sell your laptop to professional company today and give a chance to show just how great the service really is. They really make it easy, fast, and profitable to sell laptops online. And you should know that it is not only a problem to sell laptop back, but also a good idea to make some money of your useless technic.