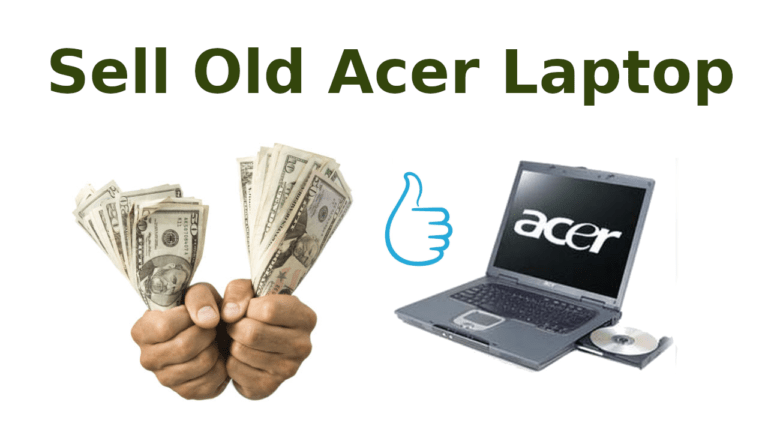 Today we live in a world of advanced technologies. People rely heavily on their laptops and other mobile devices. A new better product comes out every week that promises better connectivity and a more user friendly experience. If you are in need of selling your old Acer laptop , then you need to check into selling it online. When you sell laptop online, you will be able to get the cash you need in a relatively easy manner. Luckily, you are going to sell Acer laptop so that you will never have problems with it.
Acer is known for its wide selection of laptops, ranging from sleek ultraportable's like the Swift 5 or beefy gaming laptops like the Acer Predator Helios 700. And in case you're trying to shop within a budget, the company has plenty of notebooks that offer big value for a small price such as the Nitro 5. So, you do right if you want to sell your old Acer to buy a new improved Acer model.
Why Sell Old Acer Laptop?
Good for the environment - One of the best reasons to sell your old Acer laptop rather than just throwing it away is that it is much better for the environment. With all of the wasted electronics cluttering up the landfills around the country, finding space for everything is getting to be a problem. By selling your old laptops, you will be able to have your old laptop used by someone who really needs it.
Profitable -  Of course, most of people sell their laptop is due to the money they can get for it. If you can sell your old Acer for $85, then you will be able to put that money towards the purchase of a new laptop. This will allow you to not only get rid of the clutter in your home, it will allow you to get the laptop you really want. Make sure you search around online until you find the right buyer for the laptop you have.
Safe -  Among the biggest concerns most people have when selling their electronics is the personal data they have on them. Most of the companies you find online have a strict policy when it comes deleting personal data from the computers they are taking. Check your laptop's HDD and clear everything up.
Very fast and easy -  Another reason to sell your laptop online is that it is very easy to do even if you are not tech savvy. In most cases, all you need to do is to enter in your information and the make and model of your computer. Free shipping is available. You can't find an easier way to sell your old laptop .
More space in your house and life -  Literally! As instead of cluttering up your house with unused tech gadgets, your unused laptop can go to a good home and you can have cash in your pocket as a result. Having a good tech de-cluttering session every once in a while is good for the soul.
How To Sell Old Acer Laptop?
Do you know what is inside of you Acer machine? You have to know it! So, are AMD, Intel Core and Intel Celeron processes hidden inside your old Acer laptop? Large screen size? Are charging ports available? The more you know about your machine the more money you can get for it. There's no need to question "Can I sell my old Acer laptop for cash?" when you use online services. The efficient and prompt process that modern online companies operate can help your confidence to soar when selling an old Acer laptop .
Step 1

Get A Quote - Select your device and answer a few questions about the condition of your gadget. Fill out the checkout form and receive a free pre-paid shipping label.

Step 2

Ship It For Free - All you need is a box. Print out your pre-paid shipping label, pack your device and drop it off at any UPS Store.

Step 3

Get Paid - Once delivered, specialists will test your device and get you paid within 48 business hours!
Things To Check Before Selling Acer Laptop
If it doesn't have dead pixels and discolorations, it could have blemishes from moisture damage if you like to use it in your bathroom or kitchen. It's a good idea to wipe the screen down and check for scratches and even tiny cracks that may have gone unnoticed when covered with a "protective" dirty layer.
Test all the ports and connections
Use an external device to test USB ports and video ports. Also test WiFi and bluetooth connections.
You can test your drive in Windows by using CrystalDiskInfo Portable. With older laptops, when you hear a funny noise from the hard drive bay it's very likely that your hard drive is going bad!
You can download a free version of Memtest or use the Windows memory diagnostic tool to check your memory (we use Memtest because it's more precise and efficient).
Test the battery life and charger:
Make sure the power jack doesn't lose connection when you move the laptop around.
Don't forget to erase all passwords (BIOS, Windows). Otherwise your laptop may become useless!
When selling a laptop online honesty is crucial, saving both time and money. If you don't disclose something bad about your computer's condition and then sell it on eBay, be prepared to receive it back and pay for shipping both ways. This is a situation you want to avoid!
After a successful online transaction, pack your laptop very well so that the buyer receives it in the same condition you ship it in. Have you seen the crazy YouTube videos about delivery drivers tossing and kicking boxes? We don't want them to handle our packages poorly but you never know...
Also, before selling your Acer laptop, you can browse the web and find the price that people usually put and ask for used laptops of the same brand. Now, you know a lot about selling laptops online and can fill in the form below!