Where to find free shipping box?
Freecycle

The Freecycle Network is a great way to get free stuff, including moving boxes. Robeson also uses Freecycle to unload extra boxes.

Liquor stores

Try and ask for boxes with lids (otherwise, contents are bound to fall out in the moving truck). Boxes from a liquor store tend to be small and sturdy—great for books, CDs, and DVDs.

U-Haul Box Exchange

U-Haul sells moving boxes (no surprise there), but did you know they also maintain a board where customers can sell or give away their moving boxes when they're done with them? Yep, they sure do. Check the listings in your area, and you may just score some primo boxes at no cost to you.

Stores and Restaurants

Stop by a couple stores or restaurants, and ask them if they have any boxes they can spare. With all the shipments they get in over the course of a week, they'll probably be happy to hook you up. For the sturdiest boxes, try grocery, office supply, liquor, book and electronic stores and copy centers.

Recycling Centers

Some dumps and recycling centers maintain a shed for moving boxes. You can drop boxes off when you're done with them, or take boxes when you need them. Either way, it ensures boxes get reused until they really need to be recycled. Check to see if your community has a program like this in place.

Neighbors and Neighborhood

Ask your neighborhood for free boxes on the Nextdoor app or website. It is a one of the best places to get free moving boxes is Nextdoor, a site and app that allows neighborhoods to create private social networks. Business owner Shannon Robeson, who runs Natures New Green, which sells supplies for urban and organic gardening, saves all her extra boxes and offers them free on Nextdoor. "I offer my extra supplies there first," she said.

Big Box Retailers

Stores like Costco, Walmart, Home Depot and other large home improvement stores are known as "big-box stores" for a reason. Office supply stores are also another good bet. Just ask a worker if they have any empty ones to spare. Chances are they do.

Starbucks

our local Starbucks most likely gets deliveries two to three times a week, which is a perfect time to get some free boxes. If you're one a first name basis with your favorite barista they no doubt will hook you up.

Office Depot

Ask about printer paper boxes at Office Depot on shipment days. Tuesday from noon – 3 p.m. is the best day and time to score free boxes at Office Depot, but you should still call your local Office Depot to make sure.

Facebook

Facebook Marketplace and local Buy Nothing Project groups often have boxes available. Finding them is as easy as typing "cardboard boxes" into the site's Marketplace section, or joining your local Buy Nothing group and asking.

Work, your workplace

If you drive to work, ask your office manager or the folks at the loading dock if they have any clean boxes you can have. If they don't, tell them your move date and ask them to set some aside for you to pick up another day.
Shipping Laptop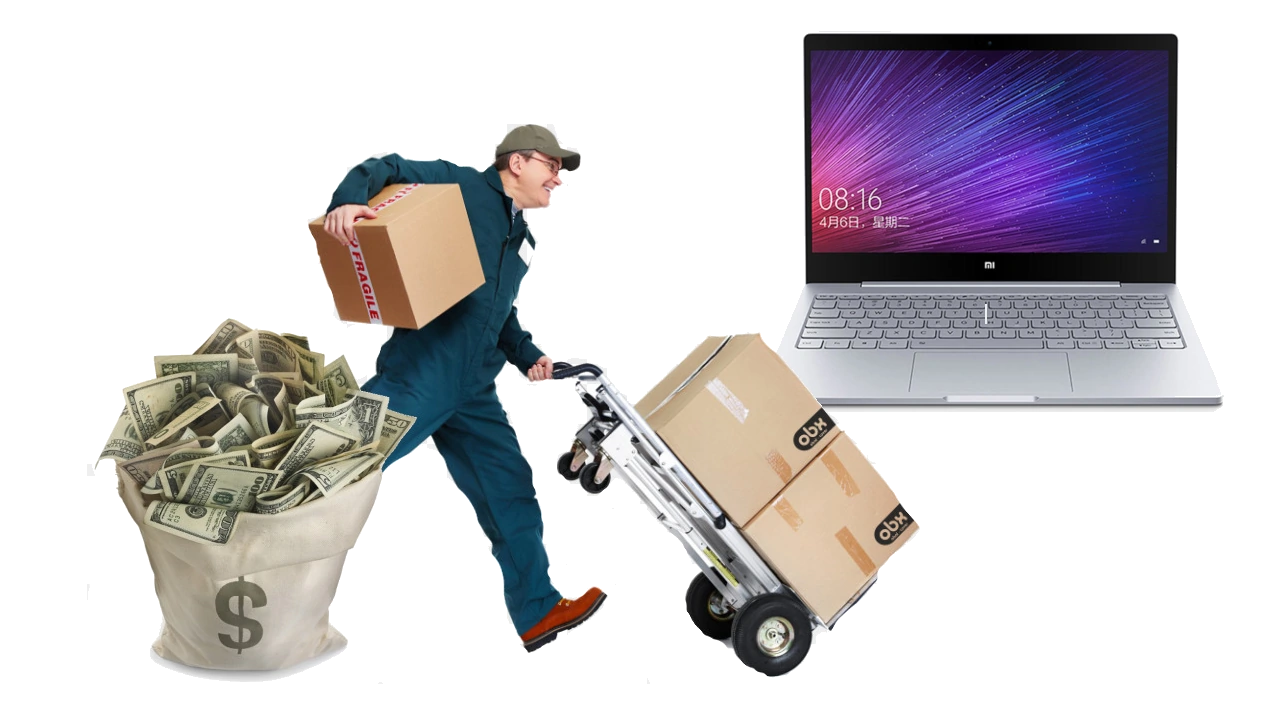 Properly packing your laptop is extremely important. As a general guideline, use a box with at least a 2" air gap between the laptop and the box on the top, bottom and sides of your laptop. Fill this air gap with packing popcorn, bubble wrap, or similar protective material. It is advisable to bubble wrap your laptop and then use protective popcorn to fill in the remainder of the air gap. The packing material should fill the entire air gap.
*Pack it the way it arrived. If you still have the box that it came in, put everything back the same the way that it arrived originally.
Remove the battery from the laptop. Wrap it in layer of bubble wrap and use the packing tape to seal the wrap. Wrap any extra equipment the same way.
Wrap the laptop in a double layer of bubble wrap
Lay the bubble wrapped items in the box. Fill any extra space around the laptop and accessories with packing peanuts.
Lay the bubble wrapped items in the box. Fill any extra space around the laptop and accessories with packing peanuts.
Close the box lid and secure with packing tape. It is always a good idea to tape all open edges also. To make the box extra secure, re-tape the bottom of the box.
Drop off the box according to the chosen carrier