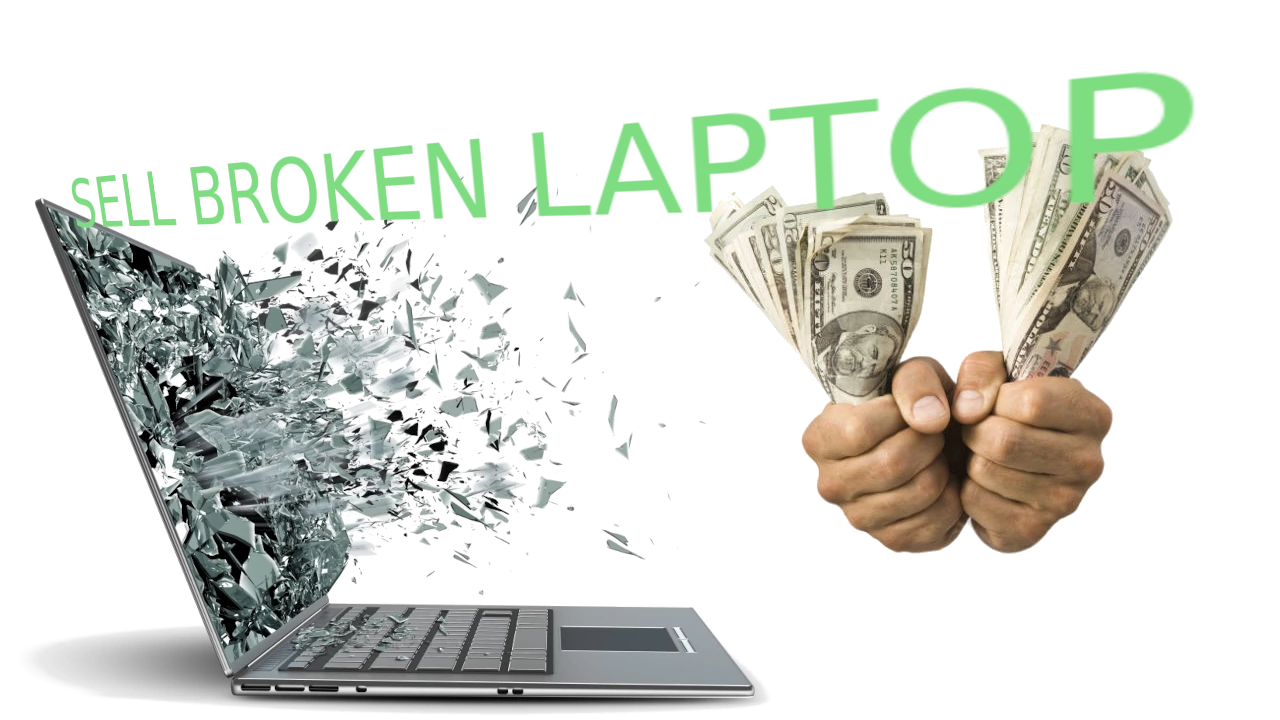 Technologies are quickly changing, but often older machines are still perfectly usable. You may use your old laptop even if it has lost its capabilities. Shame on you! It really seems weird to work on your old slow machine if you can sell it, used or broken. What is more, it could be used by someone else. So, let's try to find the right place to sell broken laptop online.
First, it is important to say that you shouldn't sell your laptop right now if you don't want to. Also, you don't need to sell your laptop and get a new one every time the newest model comes out. But if you use your laptop for work and really need a newer, better, faster machine for more demanding software, it's ok to find the most convenient way to sell broken laptop online. So, is your existing laptop good enough for your social media needs, entertainment, shopping, studying or simply browsing the web? If not, let's get back to the subject of selling your laptop if you really need to.
How to sell broken laptop?
Fortunately there is a ready market for old laptops, so you can not only get rid of your old broken computer but make a bit of cash from it too. So, whether you're a freelancer looking to sell a single machine or a small business looking at bulk laptop disposal, here's what you need to know.
Identify your laptop
The first thing that you need to do is to identify what sort of laptop you have. The make and model number are the first things to look at, there will usually be a spec label on the underside or the machine that gives you this information. You can find it even if you are not a technician.
It's also useful to know the size of the screen (measured diagonally); the type of processor; the amount of memory (RAM); and the capacity of the hard drive. Newer machines may have solid state drives (SSD) which are faster and more robust than physical hard disks. You also need to know which operating system the machine is running and which version.
Clean up your laptop sensitive data
Inevitably when you have had a laptop for a few years it will have accumulated a lot of data, some of which could be sensitive. This can be your Wi-Fi login, banking or shopping password, and other documents that you wouldn't want to fall into the wrong hands. So, it is important that you delete all your data properly.
Speaking about useful information, you should save everything that is important for you. You may think there's nothing on there you want to keep, but life being what it is, you are almost certain to discover there was something you really needed a few days after everything has been wiped. Once you have a backup, you need to remove your data. Just deleting the files, or even formatting the disk, isn't usually enough as information can still be found when using specialist tools. Instead, you need to make certain that your files are overwritten. How you do this will depend on the type of machine you have and how old it is.
On older Windows machines – running XP, Vista or Windows 7 – you'll need a third-party tool to wipe the data. Actually, if you are not a good technician you can search reputable freeware sites such with plenty of options available. These usually allow you to create a bootable CD that can start the machine independently of the operating system, allowing you to wipe the data on the hard drive.
From Windows 8 on, Microsoft helpfully built a disk wiping feature into the operating system. On 8 or 8.1 go to Settings and select Change PC settings, there you'll find the option to Remove Everything and Reinstall Windows. Be sure to choose the Thoroughly option to ensure that your files are properly wiped.
Windows 10 is similar; choose Settings and then Update & Security, then select Recovery. From there you can reinstall Windows but be sure you take the Remove files and clean the drive option.
Sell Broken laptop steps:
Find the right side. - Among many websites that offer cash for broken laptops use search engines like DuckDuckGo to find right website for your laptop recycle or disposal which can turn profitable.

Estimate what your laptop might worth. - Pricing your particular laptop with the market values can safe a lot of trouble and potential problems with the sale.
Prepare your laptop described above - To summarize previous steps, make sure your laptop is ready for attractive presentation.
Take detailed photo pictures - Good quality pictures always a good idea, also try to show all imperfections that might be problem if omitted or not included in the description or pointed out during the sale.
List your broken laptop - by this step your already chose the most appealing website or selling goods platform like eBay or Amazonfor. All you have to do if you have the issues, use website internal help page
Once sold ship your broken laptop - Congrats on your broken laptop sale. Now, ship it with the shipping carrier of your choice. Most of the time it will be UPS or FedEx, but the other shipping carrier's on the table. See details on how to ship and pack broken laptop or other gadgets.
Get paid, end of transaction - Once laptop was sold and shipped. When it's delivered your should have be getting paid or if you did before by different schema your funds will be available to your at your disposal one restrictions removed.
Sell Broken Apple MacBook laptop
What about Apple? Apple systems have a similar option available. On systems before Lion or Mountain Lion, you'll need to have your system disk. Hold down Command and R as the machine starts, this will open the recovery partition, then choose Disk Utility. On the Erase tab go for 7-pass Erase, this will overwrite the data multiple times.
Get your laptop ready for sale
Once you are sure your data has been removed, you can prepare the machine for sale. Get together any leads, manuals and discs that go with the machine. If you have the original box lurking in the loft so much the better, that will increase the value.
Make sure the machine is clean. Spending a bit of time with a damp cloth to make sure it looks like a new. It can help to enhance its value. Broken laptops are usually sold by parts or to special internet shops and you'd better to prepare it for sale in the same way and do everything but ask the company's manager to clean up your data if the hard drive is still ok.
Why sell your laptop to professional buyback shop?
One advantage of selling your laptop to online shops is that you don't need to worry about your private data getting into the wrong hands. They clean your data permanently for free as a part of their high service.
You will also see how fair they are about your laptop's condition after they receive it. The company tests the hardware and if it performs as expected and you were truthful about the condition, you will be paid the quoted amount.
You don't need to search for long to determine what your laptop is worth. Their offers are updated as much as needed to reflect the highest actual value of your laptop at the present time.
On a final note, scammers are pretty easy to detect. Offers that seem too good to be true are most certainly not good ones.
Sell your laptop online today and give yourself a chance to show just how great online service really is. It is easy, fast, and profitable to sell laptops online. Like the idea? Spread the word!
Want to sell broken laptop for cash? What about selling all other broken consumer electronics? No problem, check LaptopNuts reviews and come get your laptop free quote.