Dec 01, 2016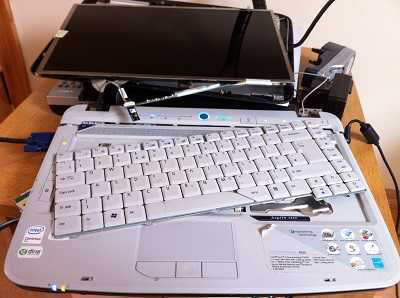 Is it necessary to repair your laptop with your own efforts?
The article is dedicated to all repair lovers who want to repair their laptops without additional assistance. Mayby better is to call laptop repair company?
All happy laptop owners face the problem of reparation. Sooner or later, you notice that your lovely machine work bad, with fits and starts. You need it right now! This is the situation of high nervousness and temper. There is a true question: I need my information back! There is another situation, when your laptop, is difficult to switch on or off. This is the first sign, shouting that your laptop needs to be examined as fast as possible. At least, you should pay for preventive cleaning and diagnostics to find out what is what. The worst variant is reinstalling of operative system. Finally, your portative friend needs to be taken by parts to find the defect and replace them.
Are you afraid? If you have enough patience, diligence, accuracy and special skills, you can try to repair your laptop on your own. If you are not strong in technic, this is the time to call for help to laptop repair company. What do you know about the laptop details, chips, microchips, motherboard, their functions and characteristics? The solid skills of this area can help you to fix your machine in the best way. Speaking about practical skills, you have to learn specifications to use special equipment, at least soldering iron. To replace microchips you should learn working with thermal or infrared soldering station and special fusible agents.
To Do or not to Do - That is a Question!
Attention! It is important to switch off your laptop and remove accumulator before open it. It is also important to us antistatic bracelet.
Of course, if your head is free from base technical knowledge, you can try to repair laptop just in case it does not need high skills and complex information. So, what reparations are usually available to do without professional assistance? The complexity of categories is different. You do not need many efforts to repair your broken laptop for:
Winchester replacement;
Work memory replacement;
Keyboard replacement.
Do you think that laptop preventive cleaning is easy to do? As a rule, you have to do complete disassembly of your laptop corpus. The procedure seems to be easy. Nevertheless, people cannot finish it without professional help. The big part of broken laptops is out of order because of wrong and incompetent manipulations. The list of reparation that needs much efforts and special skills is:
Connectors replacement;
Inverter replacement;
Motherboard breakages;
Screen damages.
Remember! The work must be done attentively and accurate, following the warnings and instructions. If you are not strong in technic, call for help to professional repair company!
There is one more thing: your efforts are worth doing only if you have all necessary details to replace. Do you know, where to find all needed details? You may use electronic elements, corpus details, new and used. If you decided to repair laptop on your own, you should remember that after-effects and results of your doing can be difficult to check-up and expensive to repair. Thus, your decision is important.
Nothing Better than Competent Help of Laptop Repair Company
There are many cases, when urgent reparation is all you need. Professionals can help you! The service center renders its competent assistance in the shortest terms. The high-class specialists provide scrupulous laptop diagnostics, cleaning to make price for reparation if it is needed. You can order in-home reparation - improve information on the web. You can take your broken machine to service office on your own or use free shipping possibilities. Anyway, your visit is expected and effective. The result of your visit to service center must be lot of cash!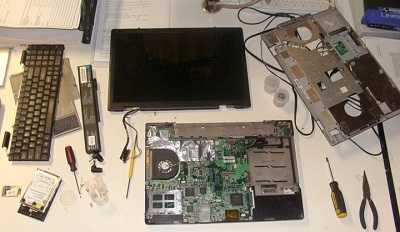 Out of Danger
The laptops are out of order for different reasons more often than desktop PCs. It is all because of great amount of additional programming support in your laptop. As a matter of fact, critical loads may be the main reason of overheating, breakage of component parts and apparatus problems. If you could not fix the problem in time, the laptop runs into danger every day. Thus, cheap preventive cleaning makes your machine to be out of danger. Otherwise, cheap reparation becomes the expensive and substantial procedure that needs much time and money.
How much money do you need to replace processor in your laptop? - Call for help to laptop repair company and get know the price!
Of course, it is really difficult to find the reason of your laptop troubles if you are not professional. There is a list of damages and characteristics that can make you think of your machine condition:
No
start
loading
charging
picture
keyboard
ports and connectors: USB, IDE, SATA
WiFi, Bluetooth, micro and camera
cooling
From the other hand, the price for reparation depends on the value of damage. You can easily break down your machine, water it, crash or press down. For example, the price for watering of your laptop is equal to the price for new keyboard. As you can see, there is no space for cheap laptop reparation.
Upgrade It Right Now!
You are careful user and know everything about technic. Your laptop is many-years old. Nevertheless, it is still in good working condition. You see that it is not as powerful as you wish. Can you buy new device? If you are not ready to buy new laptop, you can upgrade your old machine. You can replace your processor, operative memory, software, drivers - the complex of works is not expensive. It helps to make your old computer to be close to modern demands and technical characteristics.
Good Advice:
Do you think that your machine works slowly? Having doubts, call for help to laptop repair company!
The cheap reparation is always better than buying new computer or expensive details for it. Do you want your laptop to be repaired? Do you have some system problems? Have you watered your laptop or pressed it down? Make a call!