Apr 02, 2018
From leaking faucets to burst pipes and flooding, water damage is one of the most common and potentially destructive problems you can face as a homeowner. If not taken care of your problem immediately, excess water in your home can promote electrical hazards, furnishing destruction, mold, ugly stains here and there on the carpet, floor, walls. When the worst happens, call the experts, liquid damage services, to restore your house in the fastest way. The experts are always on your side providing their professional guidance on what to do and the experience to fix the problem, fast.
What to do if you're in the middle of a loss before experts coming
Damage from water and bacteria growth can begin within hours. Call for professional liquid damage services.
Remove as much water as possible by mopping and blotting.
Remove wet area rugs or other floor coverings not permanently attached. Do not attempt to start removing wall-to-wall carpet.
Lift draperies off the floor, loop through a coat hanger and place the hanger on the drapery rod.
Wipe furniture, prop up wet furniture cushions for even drying and place aluminum foil under furniture legs
Move photos, painting and art objects to a safe, dry location.
Keep books on shelves. Pack them tightly to prevent warping of pages until a restoration professional can begin this specialized drying.
Open drawers, closets and cabinet doors to enhance drying.
Do not
Enter a room with standing water, especially dirty water, until electricity has been turned off.
Use a regular household vacuum to remove water. It is useless.
Lift tacked-down carpet without professional help. You can make the things worse.
Use electrical appliances while on wet carpet or flooring.
Disturb visible mold.
Remove books from shelves.
Six Step Water Damage Repair from Professionals
When water strikes, restore your property and possessions with liquid damage services. This is the only possible professional way to clean up. The expert staff knows water damage increases rapidly if cleaning and restoration actions aren't taken quickly. With fast response times, 24/7 on-call disaster restoration services, and innovative equipment, they work hard to minimize damage and relieve your stress.
Their six step water damage restoration process includes:
Inspection and assessment of the water damage
Removal of all unwanted water
Application of anti-microbial treatments
Use of air movement for drying
Performing dehumidification to remove water
Monitoring your property to prevent continued damage
The liquid damage services understand that having full use of your home or office is important to you. That's why their professionally-trained cleaning staff cleans and restores your space quickly and cost-effectively.
Carpet Water Damage
There is no standard procedure for dealing with every flooding situation. Each crisis must be evaluated on a case by case basis. Every flooding situation will have its own distinguishing problems. There are a number of standard questions that must be addressed in evaluating the proper protocol for returning the carpet to its pre-flood status. The primary question that must be addressed is the type of flooding that has occurred, sanitary, unsanitary, or black water. Let's come closer.
Sanitary Flooding
The carpet must be treated with a disinfectant following extraction of excess water. Most homeowners insist that the carpet should be replaced in all flooding situations but this is usually not necessary in the case of sanitary flooding. A few simple guidelines may be followed to insure the carpet can be returned to pre-flood conditions.
No or minimum traffic on the wet carpet! The latex that holds the primary and secondary backings together is weakened when wet. Excessive traffic on the carpet may cause delamination. The latex should regain most of its strength after drying.
Action should be taken immediately to shut-off and control the source of the water. It may be necessary to punch small holes in the drywall to release any standing water that has accumulated within the walls. It is rather silly to start restoration process and take efforts prior to identification and elimination of the water source.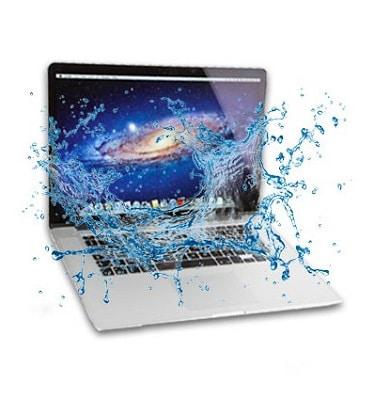 Quickly remove any furnishings that may stain or damage the carpet.
Immediately contact a professional restoration technician to perform the work.
Extraction of excess water should begin immediately and the carpet should be completely dry within 12 hours following intervention. Failure to follow these recommendations may allow for the development of several types of bacteria and fungi that may negatively affect human health. To reduce the possibility of this occurrence, the application of a disinfectant to the face fiber is recommended. Many of these treatments will destroy stain resist treatments.
Unsanitary Flooding
The next point is classified as unsanitary water. What is it? If the water can be identified as unsanitary, there are few safe options. Anytime the water intrusion is a result of water with some degree of contamination, the water source can be classified as unsanitary. Examples of unsanitary water intrusion include dishwasher overflows, toilet flooding with urine present, punctured water beds, or other water sources that may contain biopollutant contamination.
The biggest disaster here is not flood but bacteria. It is recommended the carpet be discarded due to bacterial concerns. If the decision is made to restore the carpet, disinfectants must be used to protect human health. In situations associated with unsanitary water intrusion, the primary concern should be protecting public health. The classification of unsanitary water versus black water contamination is dependent upon time. Unsanitary water that is left untreated for significant periods can change from unsanitary to black. That's why you should trust to liquid damage services to get proper classification.
In dealing with unsanitary water sources, you must always assume there is a significant threat to human health. Waiting for experts, try to protect yourself. Rubber gloves, boots, goggles, and other protective clothing should be used. Anyone with cuts or open sores should avoid contact with the flood waters. Your pets, family members should be taken to a safe place until the house will be clean and fresh again.